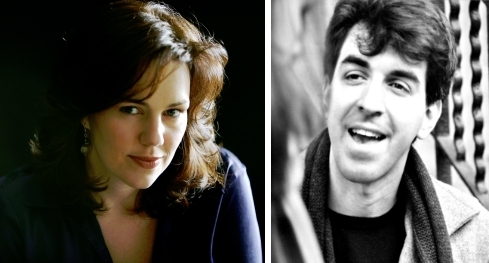 David will be joining Jason and Georgia in a concert to benefit the Pasadena Presbyterian Church. For more details about the event, visit the Facebook page. Tickets are available here.
From the Facebook Event Page:
Broadway comes To PPC for one night only, when husband and wife musical theater composers JASON ROBERT BROWN and GEORGIA STITT share the stage with their talented friends.
JASON ROBERT BROWN has been hailed as "one of Broadway's smartest and most sophisticated songwriters since Stephen Sondheim" (Philadelphia Inquirer), and his "extraordinary, jubilant theater music" (Chicago Tribune) has been heard all over the world, whether in one of the hundreds of productions of his musicals every year or in his own incendiary live performances.
GEORGIA STITT has been called "a songwriter with a truly distinctive writing voice; a voice that blends theater, pop and classical flavors into a sound all her own" (Craig Carnelia). Her music is "highly recommended. Reflective and personal, but with the intelligence and craft of good theatre songs" (National Public Radio).
JASON ROBERT BROWN
and
GEORGIA STITT
in concert TOGETHER
with TY TAYLOR, ALLIE TRIMM, AMY RYDER, LARA PULVER, DAN CALLAWAY and TRACY NICOLE CHAPMAN!
and in the CHOIR:
Francesca Baer, Christopher Carothers, Robyn Clark, Will Collyer, Cat Davis, Jay Donnell, Scott Douglas, Jesse Einstein, Graham Fenton, Julie Garnye, Lori Jaroslow, Nicole Kaplan, Chil Kong, Tyler Mann, Ashley Marks, Baraka May, Megan McDermott, Eileen Cherry O'Donnell, Gabriel Oliva, Erin Quill, James Leo Ryan, Jennifer Shelton, Ali Stroker, Elissa Weinzimmer, Lizzie Weiss, Robert Yacko, Penelope Yates, David Zack